Ski Statistics - Length (cm) / Sidecut (mm) / Radius (m)
186 / 129-102-124 / 19
179 / 126-100-122 / 18
172 / 123-98-118 / 17

Manufacturer's Description
Ride 'em Cowboy! The Gaucho is our shape for the all mountain resort skier. Be it you ski on the ice coast, the flat lands of the Midwest or the deep, steep and wet Northwest, there is no condition too rough and tough for the Gaucho. We shaped the Gaucho with a minimally tapered and rockered twin tip design, supported by a sub 20m turn radius for quick and playful turns down fall line. When the conditions get icy, the Titanal metal construction provides unreal edge hold, so that even the firmest days are the best days. Giddy up.
Real time prices for the 4FRNT Gaucho 2017, or similar ski products:
Roark Gaucho Muerto Premium TD Tee - Men's
Roark

$33.95
Howler Brothers Gaucho Snapshirt - Men's
Howler Brothers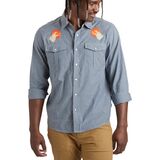 $99
Kamik Alborg Winter Boot - Men's Gaucho Brown 8 Regular
Kamik

$68.99
(40% off)
Reader Ski Reviews of the 4FRNT Gaucho 2017
Add review of this ski.