Ski Statistics - Length (cm) / Sidecut (mm) / Radius (m)
181 / 122-88-114 / 18
176 / 121-87-113 / 17
171 / 120-86-113 / 16
166 / 119-85-111 / 15
156 / 117-83-109 / 13

Manufacturer's Description
A ski that we like to call "on the cutting edge" of park ski technology… Tough enough for riders like Cam Riley to jump off a four story parking garage, but playful enough for him to throw a buttery 270 on when he gets back up for his next hit. The Switchblade is our true 'Jack of all Trades' for park riders that need their ski to be both poppy and aggressive and also be buttery and playful on demand. This ski is great for riders who want a classic feeling carver that's playful enough to send through the park.
Real time prices for the 4FRNT Switchblade 2017, or similar ski products:
Giro Switchblade MIPS Bike Helmet
Giro

$269.95
Pivot Switchblade Pro X01 Carbon Wheel Mountain Bike
Pivot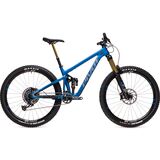 $8039.2
(20% off)
Giro Switchblade MIPS Helmet Matte Black / Gloss Black L MIPS
Giro

$279.95
Reader Ski Reviews of the 4FRNT Switchblade 2017
Add review of this ski.