Ski Statistics - Length (cm) / Sidecut (mm) / Radius (m)
177 / 134-81-112 / 15.5
170 / 133-80-111 / 14.3
163 / 132-79-110 / 13.1
156 / 131-79-109 / 11.9

Manufacturer's Description
The legendary i.Supershape Titan slays the piste and unlocks the good stuff just beyond the groomers thanks to its wide footprint. We left no stone unturned to build this versatile and speedy ski, packing it full of the tech of our Performance line, including power generating KERS, snappy ERA 3.0 S, Race Structured UHM C Base and Worldcup Sandwich Cap Construction, so that off-piste missions are fully charged.
Real time prices for the Head i.Supershape Titan 2016, or similar ski products:
Head Supershape E-Titan Skis with bindings
Head

$689.97
(40% off)
Head Skis USA Supershape E-Titan Ski + Binding - 2024
Head Skis USA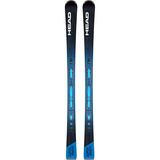 $1298.95
Head Supershape e-Titan SW Skis with PRD 12 GW Bindings 2022
Head
$999
Reader Ski Reviews of the Head i.Supershape Titan 2016
Add review of this ski.