Ski Statistics - Length (cm) / Sidecut (mm) / Radius (m)
153 / 118-84-107 / 16
161 / 119-84-108 / 17
169 / 119-84-108 / 18

Manufacturer's Description
The 2018 Vista from Movement is an innovative touring ski, designed specifically for women who like to switch from the frontside to the backside of the mountain, several times in a day. This ski is very responsive thanks to its carbon reinforcements and very playful with its double rockers. It has a sleeker design than its previous version, mirroring Movement 2018 new skis.
This touring ski is incredibly lightweight. If you like quick and easy ascents it's exactly the ski you need. But its weight is not its only asset, the Vista is a real downhill ski that performs in every snow conditions. It floats on powder thanks to a smooth rockered profile and the 84mm waist delivers support. Don't worry if you want or have to ride on the hard pack, the flat camber ensures grip and stability and inspires confidence. For Movement, a modern touring ski must allow you to have fun on the entire mountain. It must be light, versatile and it should perform anywhere. The Vista sticks to that definition better than any other ski out there.
These skis are intended for intermediate to advanced female skiers looking for a versatile ski, that performs both up and downhill. The Vista makes your tours more enjoyable!
Real time prices for the Movement Vista 2018, or similar ski products:
FP Movement Solid Metti Crew Sweatshirt - Women's
FP Movement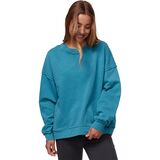 $66
(25% off)
Movement Alp Tracks 106 LTD Skis 2022 - 185
Movement

$1175
FP Movement Work It Out Hoodie - Women's
FP Movement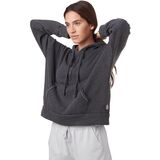 $68
Reader Ski Reviews of the Movement Vista 2018
Add review of this ski.