Ski Statistics - Length (cm) / Sidecut (mm) / Radius (m)
170 / 130-103-120 / 18.6
179 / 134-105-123 / 19.3
188 / 137-108-126 / 20

Manufacturer's Description
Stereo's are proud to announce they new, super versatile freeride ski– the Zenith! Made for playful skiing in deep snow and powder, yet with stability and grip on various conditions. The elliptical front rocker has a higher tip than Stereo's previous models and gives an incredible float in deep snow. The Zenith has a rock solid sandwich construction – with full wood core and prepreg tri-axial fiberglass, which provides a solid and stable ride.
Real time prices for the Stereo Zenith 2018, or similar ski products:
O'Brien Water Sports Zenith Wakesurf Board
O'Brien Water Sports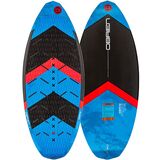 $554.8
(31% off)
Beal Zenith 9.5mm BLUE 70M 70M
Beal
$157.46
(10% off)
Obrien Zenith Wakesurf Board 2022 size 52"
Obrien

$529.97
(24% off)
Reader Ski Reviews of the Stereo Zenith 2018
Add review of this ski.