Nordica Soul Rider 2012 Ski Review
First up in our yearly ski test - Nordica's Soul Rider.
Ski Statistics - Length (cm) / Sidecut (mm) / Radius (m)
177 / 134-97-124 / 16.5
185 / 134-97-124 / 18.5

Manufacturer's Description
All Terrain Freestyle is an emerging ski style that is the evolution of park skiing as it migrates back into the mountain. Athletes like Nordica's own Rory Bushfield or Benedikt Mayr are pushing the evolution of Freestyle as they move it to the Back Country. The Nordica All Terrain Freestyle skis offer the versatility to ride on any terrain and in any snow condition. The Nordica Rocker-Technologies in these skis also guarantee a complete range of functions that match the specific needs for big lines, Backcountry skiing and B-C jibbing.
Ski Review's Verdict:
I'm not a fan of the graphics - let me say that from the start. Not just the Soul Rider. Most Nordica skis. I also have no style or fashion sense so that's not necessarily a reflection on Nordica. It's all a bit too bold for me, and, well, pink! Nordica have given their all terrain backcountry jibber a colour scheme and graphics where a skeleton wearing a sombrero playing a guitar looks up at you as you ride the lift. From this point, it's all about the skis.
I took the 185 out first up in our yearly ski test, and this year we were guests of the enormous Portes Du Soleil ski area that straddles Switzerland and France, to ensure we had every possible type of terrain available. The Nordica Soul Rider measures up at 134-97-124, and was mounted on Nordica's indicated "classic mount" point, with early rise tips and tail and camber underfoot. Ski construction is wood sandwiched by titanal. I'm 180 cms and 180 lbs. Advanced skier of 15 years comfortable any where on the hill.
They are very light considering they are a 185, although they feel a little subdued around the piste and are slow edge to edge, the Soul Rider is actually very confidence inspiring when carving or edging at high speeds in morning freeze or afternoon slush. They do not feel like they will give in on you but you are along for the ride, not so much driving the turn. Jibbing around is fine, very poppy off Avoriaz's excellent snowpark kickers and very nimble in general, but the early rise and not so aggressive flex makes them quite forgiving when you want to laze around the mountain.
When you really drive them, they just don't give much back. Stable, yes, but exciting, no. No doubt a good all rounder, but just not as good as some others.
Very good in the 12-15 inches of powder we found before the temperatures rose later in the week, skiing like a wider ski underfoot and swinging like a shorter ski, but not so good blasting crud though not awful, but then much better in the slush.
If you want a good ski you can take in the park which is not so wide as to be overbearing, but will float in the powder and support the odd back country kicker or two and get you round the mountain, Nordica Soul Rider could be for you. If you ski more than 60% on piste, look elsewhere.
Real time prices for the Nordica Soul Rider 2012, or similar ski products:
Nordica Soul Rider 97 Ski
Nordica

$389.97
(35% off)
Nordica Soul Rider J Kids Skis
Nordica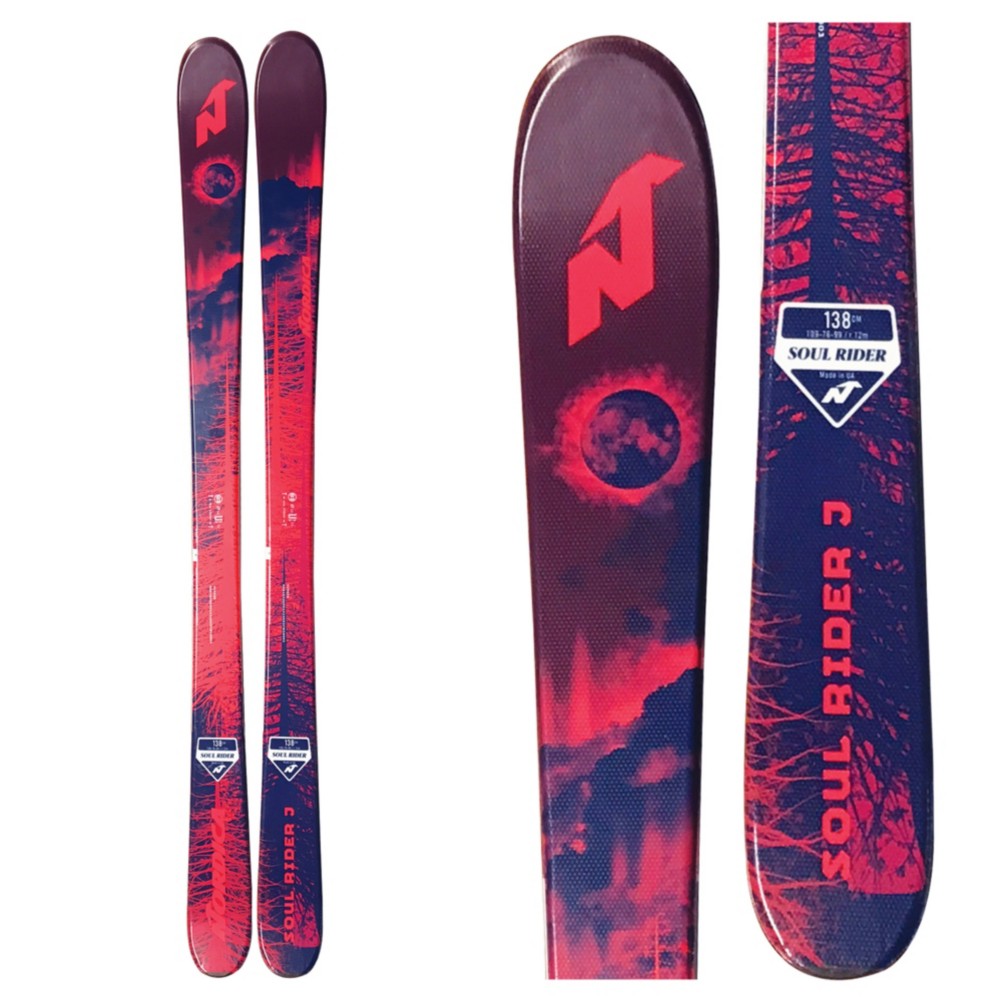 $129.95
(43% off)
Nordica Soul Rider J Kids Skis
Nordica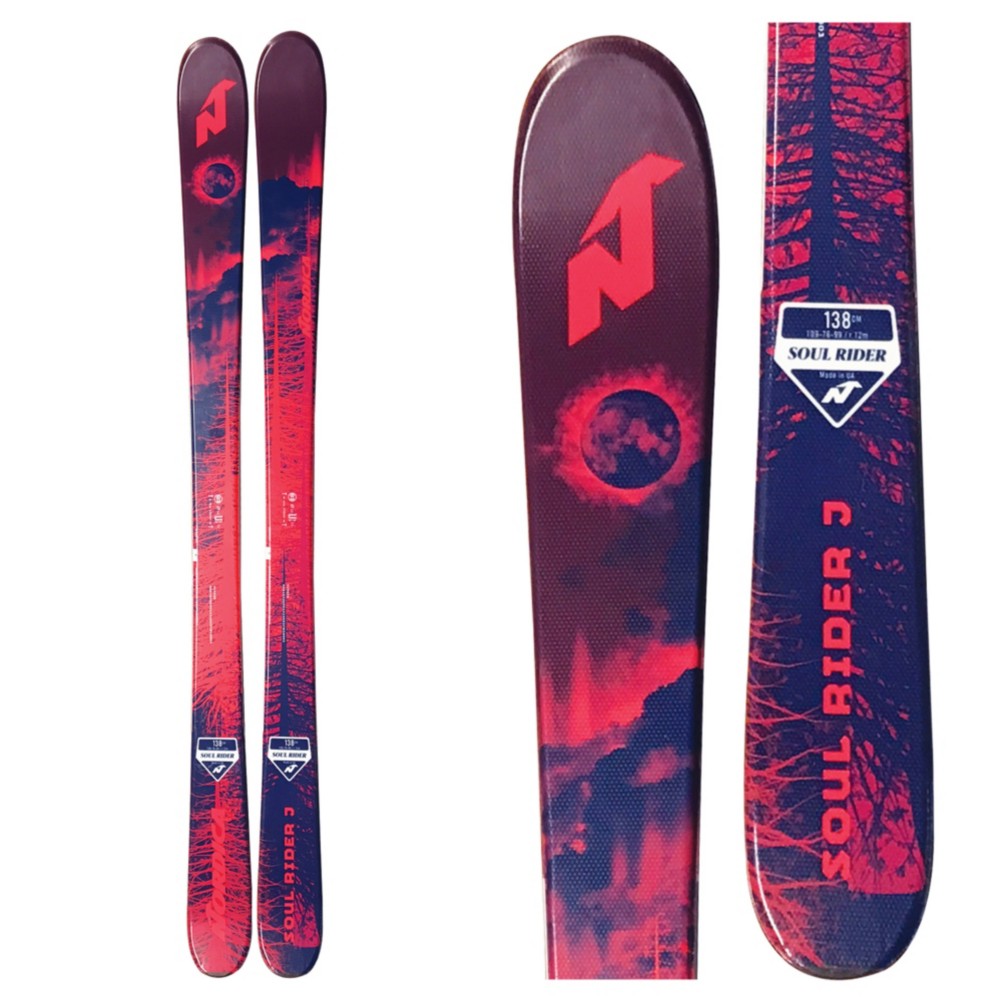 $129.95
(43% off)
Reader Ski Reviews of the Nordica Soul Rider 2012
Add review of this ski.
Latest User Reviews
Skier Height:6' 0
Skier Weight:205
Skier Ability:advanced
Ski length Tested:171
Ski Review:my very first ski! I bought them 3 years ago from a friend and through the past 3 years I've learned alot while skiing these. Yes its 2020 and...
Skier Height: 5'4
Skier Weight: N/A
Skier Ability: Advanced
Ski length Tested: 163
Ski Review: My G/F tried my skis yesterday! She is still smiling and we are already getting ready to go back to the hill! It's 6 AM.
Skier Height: 5'4
Skier Weight: N/A
Skier Ability: Advanced
Ski length Tested: 163
Ski Review: Atomic Ti SL Race
Every Saturday about 8 to 10 of my 'Homies' ski at Mont Blanc in the Laurentians. Brigite hadn't been able to join us for...