Ski Statistics - Length (cm) / Sidecut (mm) / Radius (m)
156 / 115-83-110 / 13
161 / 116-84-111 / 14
166 / 117-85-112 / 15.4
171 / 118-86-113 / 16.3
176 / 119-87-114 / 17.5

Manufacturer's Description
The soft flex associated with the PB Performance Core makes the Forward an ideal ally for urban escapades whether in pow-pow or in the park. The rocker makes the ski forgiving and fun for all freestyle lovers. This ski will guarantee an invigorating ride on the piste and its manoeuvrability will tempt you to play with the slightest snow mounds or edge. The Forward is a fun ski made to explore any aspect of the mountains, regardless of the conditions and terrain you ride.
Real time prices for the APO Forward 2017, or similar ski products:
Lezyne Alloy CNC Forward Mount
Lezyne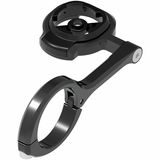 $30.99
Vortex Forward Cantilever 30mm Ring Mount 1" 2" Offset
Vortex Optics

$119.99
(33% off)
Full Tilt 2MM Forward Lean Heel Inserts 2022 size Small
Full Tilt

$1.97
(75% off)
Reader Ski Reviews of the APO Forward 2017
Add review of this ski.