Atomic Redster Rs Doubledeck Gs 2014 Ski Review
Ski Statistics - Length (cm) / Sidecut (mm) / Radius (m)
183 / 102-67-87 / 23
191 / 103-68.5-90 / 27

Manufacturer's Description
With the Atomic Redster RS Doubledeck GS, Atomic athletes have those valuable hundredths of a second in their pocket.
This ski delivers a genuine advantage. And it's all thanks to the latest generation of the revolutionary Doubledeck technology, which combines two freely gliding decks in one ski capable of delivering explosive rebound out of turns and which thus allows for ultra-fast edge switching. Ultra-smooth skiing and 100% power transmission are the hallmarks of the Powercore Cap construction. The Redster RS Doubledeck GS is the professional Giant Slalom ski for Supercross and Master racers as well as accomplished junior athletes.
Real time prices for the Atomic Redster Rs Doubledeck Gs 2014, or similar ski products:
Skis Atomic Redster Rs Doubledeck Gs
Atomic

$467.95
Skis Atomic Redster Fis Doubledeck Gs W 16/17
Atomic

$600.45
Atomic Redster FIS Doubledeck GS J Junior Race Skis
Atomic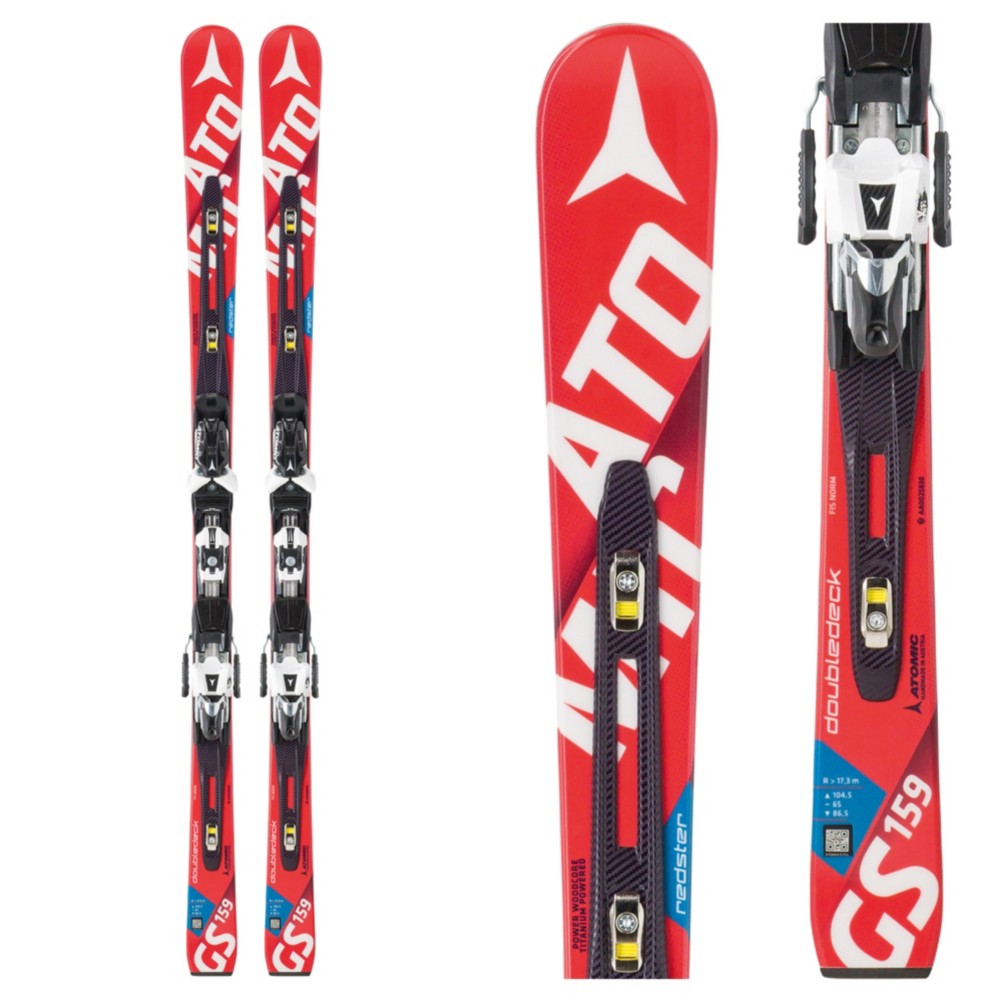 $169.93
(62% off)
Reader Ski Reviews of the Atomic Redster Rs Doubledeck Gs 2014
Add review of this ski.
Latest User Reviews
I understand the Stockli Axis Pro is not made by Stockli, is this true?
thanks
Dana Simon
Skier Height: 5'9"
Skier Weight:194
Skier Ability:expert
Ski length Tested:174
Ski Review:The Blizzard Quattro 8.4 Ti is a marvelous ski. Smooth, stable, predictable, and very quick edge to edge. I have skied them on ice, granular,...
Skier Height: 5' 11"
Skier Weight: 165
Skier Ability: Expert
Ski length Tested: 179
Ski Review: This is by far the best ski I have ever ridden. lightweight and Incredibly easy to turn, it excels on groomers, steeps, bumps and powder....