Black Crows Navis 2015 Ski Review
Ski Statistics - Length (cm) / Sidecut (mm) / Radius (m)
169.4 / 131-102-116 / 19
179.4 / 133-102-118 / 19
187.7 / 134-103-121 / 21

Manufacturer's Description
The new 2015 navis has been totally rethought so as to enrich and perfect its freeride skiing characteristics. Provided with a single beak and a half form it combines a classic camber with an early rise tail and a progressive rocker tip. Its side lines are fluid and thin at the extremities, while its front rocker, developed on 33% of its surface offers a remarkable pivot and gives it great stability on hard or wind-blown terrain. The tail of the navis was treated with particular care with a square design which increases the contact surface in soft snow, as well as a very progressive rise which softens the side-slip and reinforces its stability. The tip, inspired by the sevun, is curved and benefits from a progressive rocker which gives a better ratio between stability, pivot and engagement. The flex is loyal to the navis range: a knowledgeable mix of softness and firmness for an accessible and successful ski. Aimed a large range of skiers, this new navis blossoms in all conditions. For those who are looking for a freeride ski flirting with 103mm underfoot with a front rocker and from an early rise tail have found their weapon. This new 2015 navis has, at the same time, the authenticity of an alpine ski DNA upon which the fame of black crows is built – a pure freeride toy which adapts perfectly to crud or to pure pivoting.
Real time prices for the Black Crows Navis 2015, or similar ski products:
Black Crows Navis Ski
Black Crows

$531.97
(30% off)
Black Crows Navis Freebird Skis 2019
Black Crows

$639.96
(20% off)
Black Crows Navis Skis 2019
Black Crows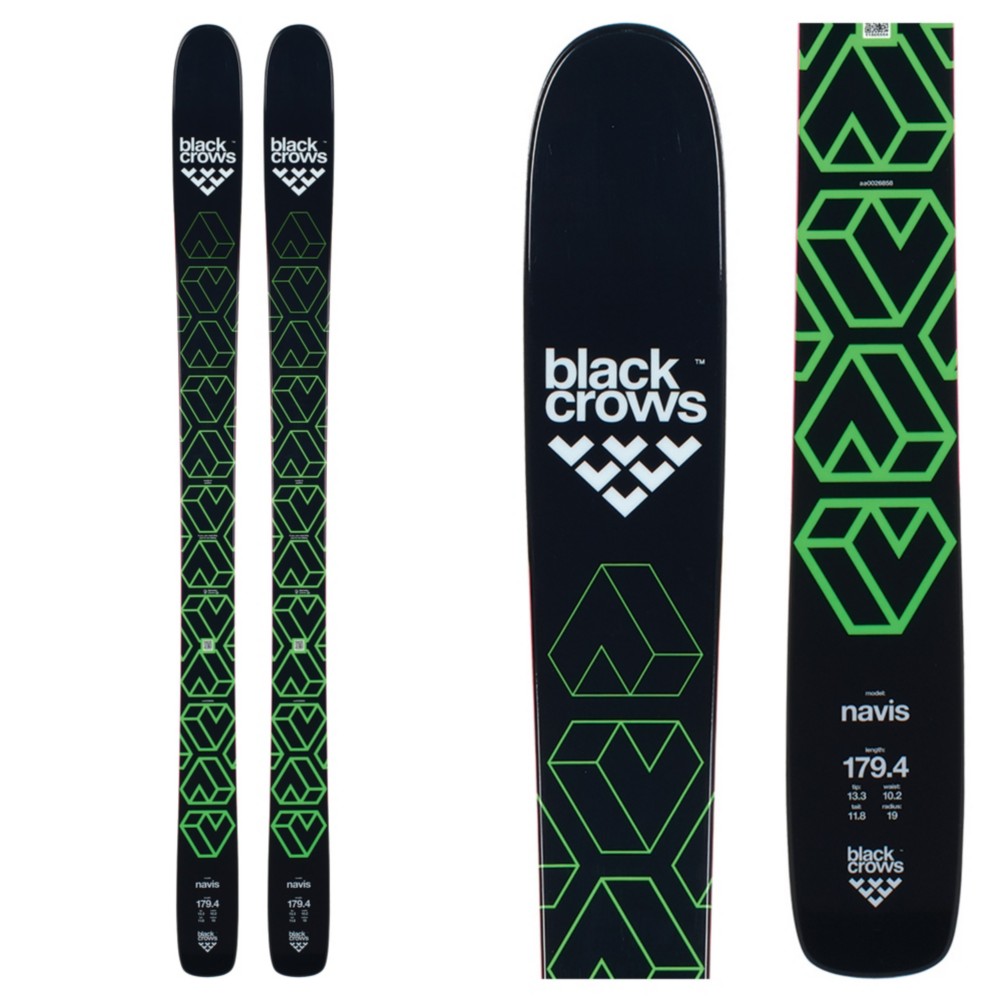 $599.94
(21% off)
Reader Ski Reviews of the Black Crows Navis 2015
Add review of this ski.
Latest User Reviews
I understand the Stockli Axis Pro is not made by Stockli, is this true?
thanks
Dana Simon
Skier Height: 5'9"
Skier Weight:194
Skier Ability:expert
Ski length Tested:174
Ski Review:The Blizzard Quattro 8.4 Ti is a marvelous ski. Smooth, stable, predictable, and very quick edge to edge. I have skied them on ice, granular,...
Skier Height: 5' 11"
Skier Weight: 165
Skier Ability: Expert
Ski length Tested: 179
Ski Review: This is by far the best ski I have ever ridden. lightweight and Incredibly easy to turn, it excels on groomers, steeps, bumps and powder....