Ski Statistics - Length (cm) / Sidecut (mm) / Radius (m)
158 / 126-99-115 /
168 / 126-99-115 / 16
176 / 126-99-115 /

Manufacturer's Description
The 106/99 Foundation Chassis is the new standard for mixed snow and all-mountain versatility. The Chassis design places your boot in the optimal place within both the flex profile and the sidecut, which fosters predictability and a powerful response. While the sidecut travels farther up the shovel than the previous Nina 99, a refined shovel rocker profile still lets you get creative on the most versatile 100mm underfoot package ever designed.
Real time prices for the DPS Foundation Nina 99 2018, or similar ski products:
DPS Skis 99 Grom Foundation Ski - 2022 - Kids'
DPS Skis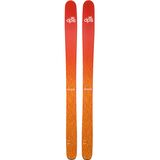 $498.95
DPS Lotus Grom 99 Ski
Dps

$399.2
DPS Foundation Wailer 112 RP Ski
Dps

$639.2
Reader Ski Reviews of the DPS Foundation Nina 99 2018
Add review of this ski.