Ski Statistics - Length (cm) / Sidecut (mm) / Radius (m)
182 / 147-138-143 /
192 / 147-138-143 /

Manufacturer's Description
Nine seasons of Alaskan R+D, but comfortably at home in the Wasatch, Tetons, or Alps, the Lotus 138 was the first rockered ski with sidecut ever built. The Lotus 138 incorporates the benefits of Spoon Technology that features a spooned convex shovel along with a new flex profile. The already iconic shape combines carbon's power and precision with featherweight lightness in an unrivaled concoction bred for those who live for the art of riding deep snow.
Real time prices for the DPS Lotus 138 Spoon 2016, or similar ski products:
DPS Lotus Grom 99 Ski
Dps

$399.2
DPS Skis Lotus Grom F99 Ski - 2022 - Kids'
DPS Skis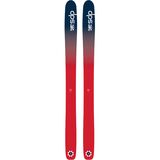 $499
DPS Skis Powderworks Tour Lotus 124 Ski - 2022
DPS Skis
$1399
Reader Ski Reviews of the DPS Lotus 138 Spoon 2016
Add review of this ski.