Ski Statistics - Length (cm) / Sidecut (mm) / Radius (m)
168 / 125-99-111 / 16
176 / 125-99-111 / 19

Manufacturer's Description
The Nina 99 is the women's Daily Driver, redefined. Based on the award-winning Yvette 112RP2 platform, the Nina 99 exhibits similar versatility in a narrower package. The Nina 99 utilizes the Yvette 112RP2's 3-D PaddleTech Geometry™—DPS' original blend of rocker and variable sidecut. PaddleTech allows the skier to engage the Nina's slightly cambered 18m underfoot turn radius while arcing g-loaded carves on hard snow, while in soft or mixed snow, the skier draws on the gradually rockered paddle. The Nina 99 gives you the best of on-edge and off-edge performance, and the ability to get creative on the most versatile 100mm underfoot package ever designed.
Real time prices for the DPS Nina 99 2016, or similar ski products:
DPS Lotus Grom 99 Ski
Dps

$399.2
DPS Skis 99 Grom Foundation Ski - 2022 - Kids'
DPS Skis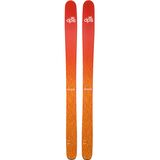 $498.95
Reader Ski Reviews of the DPS Nina 99 2016
Add review of this ski.