Ski Statistics - Length (cm) / Sidecut (mm) / Radius (m)
168 / 125-99-111 / 16
176 / 125-99-111 /

Manufacturer's Description
Based on the award-winning Yvette 112RP2 platform, the Nina 99 exhibits similar versatility in a narrower package. The Nina 99 utilizes the Yvette's 3-D PaddleTech Geometry™—DPS' original blend of rocker and variable sidecut. PaddleTech allows the skier to engage the Nina's slightly cambered 18m underfoot turn radius for arcing g-loaded carves on hard snow. In soft or mixed snow, the skier draws on the gradually rockered paddle to get creative.
Real time prices for the DPS Nina 99 Pure3 2017, or similar ski products:
DPS Lotus Grom 99 Ski
Dps

$399.2
DPS Skis 99 Grom Foundation Ski - 2022 - Kids'
DPS Skis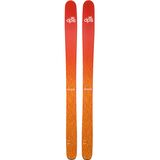 $498.95
Reader Ski Reviews of the DPS Nina 99 Pure3 2017
Add review of this ski.