Elan Amphibio 84 Ti Fusion 2018 Ski Review
Ski Statistics - Length (cm) / Sidecut (mm) / Radius (m)
164 / 131-84-112 / 14.6
170 / 131-84-112 / 15.8
176 / 131-84-112 / 17.1
182 / 131-84-112 / 18.5

Manufacturer's Description
Pick your pleasure, because Elan already picked the ski for you! With 84mm underfoot and a forgiving construction, the Elan Amphibio 84Ti is THE all-mountain king that will have you longing for more. The 84Ti comes equiped with Amphibio 4D technology to help you dominate the resort. It combines the Amphibio profile, a smart combination of camber for greater edge grip and rocker for faster and direct turns, with a pre-shaped, vibration reducing titanium top that differs in the front and rear. A convex front will help you initiate a turn with precision, while the concave rear will make you exit the turn in a dynamic fashion. It's always good times with the 84!
Real time prices for the Elan Amphibio 84 Ti Fusion 2018, or similar ski products:
Elan Amphibio 84 Ti Skis + ELX 11.0 Bindings - 2019
Elan

$799.99
(20% off)
Elan Amphibio 80 Ti + ELX 11.0 Bindings 2019
Elan

$699.99
(22% off)
Elan Amphibio 80 Ti Skis with ELX 11 GW Bindings 2019
Elan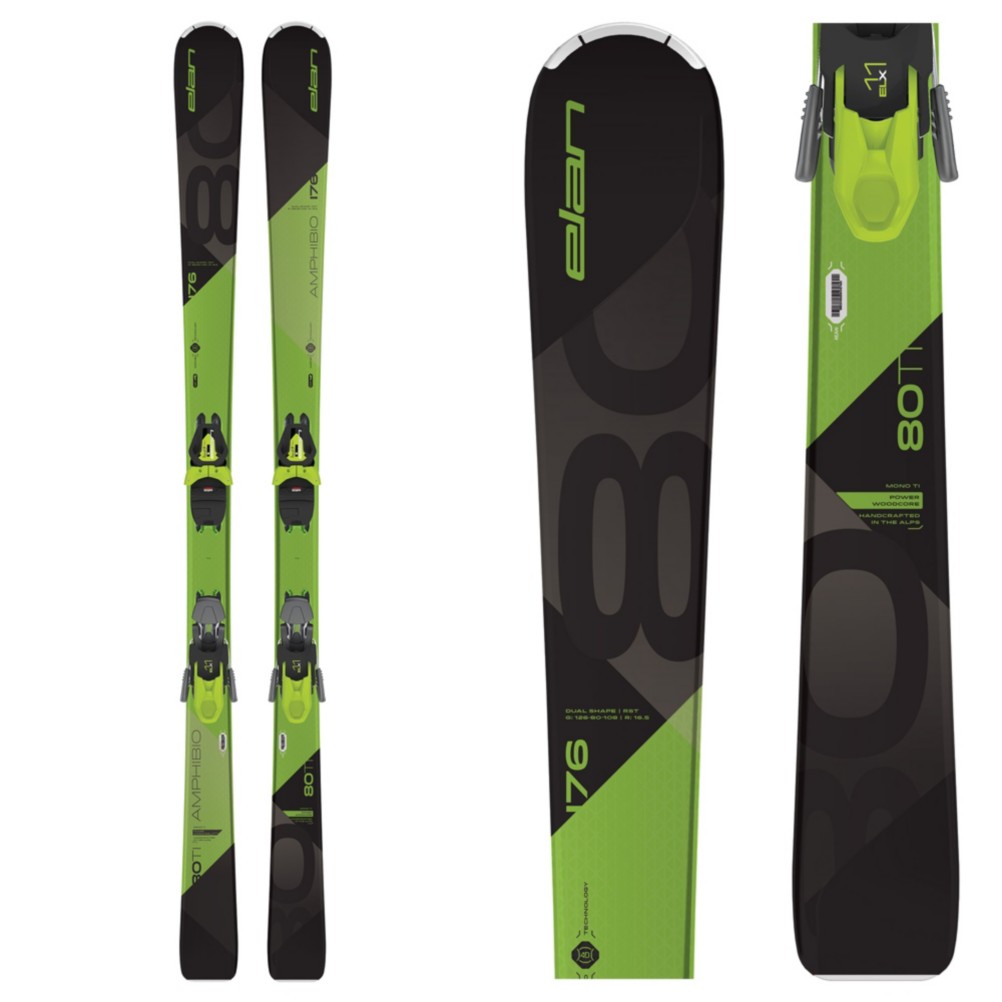 $489.94
(30% off)
Reader Ski Reviews of the Elan Amphibio 84 Ti Fusion 2018
Add review of this ski.
Latest User Reviews
I understand the Stockli Axis Pro is not made by Stockli, is this true?
thanks
Dana Simon
Skier Height: 5'9"
Skier Weight:194
Skier Ability:expert
Ski length Tested:174
Ski Review:The Blizzard Quattro 8.4 Ti is a marvelous ski. Smooth, stable, predictable, and very quick edge to edge. I have skied them on ice, granular,...
Skier Height: 5' 11"
Skier Weight: 165
Skier Ability: Expert
Ski length Tested: 179
Ski Review: This is by far the best ski I have ever ridden. lightweight and Incredibly easy to turn, it excels on groomers, steeps, bumps and powder....