Elan Delight QT 2016 Ski Review
Ski Statistics - Length (cm) / Sidecut (mm) / Radius (m)
140 / 126-76-103 / 9.5
146 / 126-76-103 / 10.5
158 / 126-76-103 / 12.6
152 / 126-76-103 / 11.5
166 / 126-76-103 / 14.2

Manufacturer's Description
Imagine a ski that is as light as a feather. Delight QT turns this dream into a reality. It is the lightest ski on the planet, as light as a ladies purse and has been awarded with The Red Dot and ISPO Award. It lets skiers turn and carve like a pro. Ultralight materials allow us to reduce the weight dramatically, and WaveLight technology softens the flex while also establishing great support and stability. New for the 2015/16 season is the Delight ski boot which is equipped with an integrated heating system. The Delight ski and ski boot create the lightest ladies skiing set on the market. The Delight ski & boot set won the 2015 Plus X Award for Quality, Design & Functionality. - See more at: http://elanskis.com/us/product/delight-qt.html#sthash.d5SCaXDT.dpuf
Real time prices for the Elan Delight QT 2016, or similar ski products:
Elan Delight Black Edition Ski System with ELX 11 GW Bindings (Women's)
Elan
$719.99
(40% off)
Elan Delight Style Skis + ELW 9.0 Bindings - Women's 2019
Elan

$499.99
(23% off)
Elan Delight Supreme Womens Skis with ELW 10 GW Bindings 2019
Elan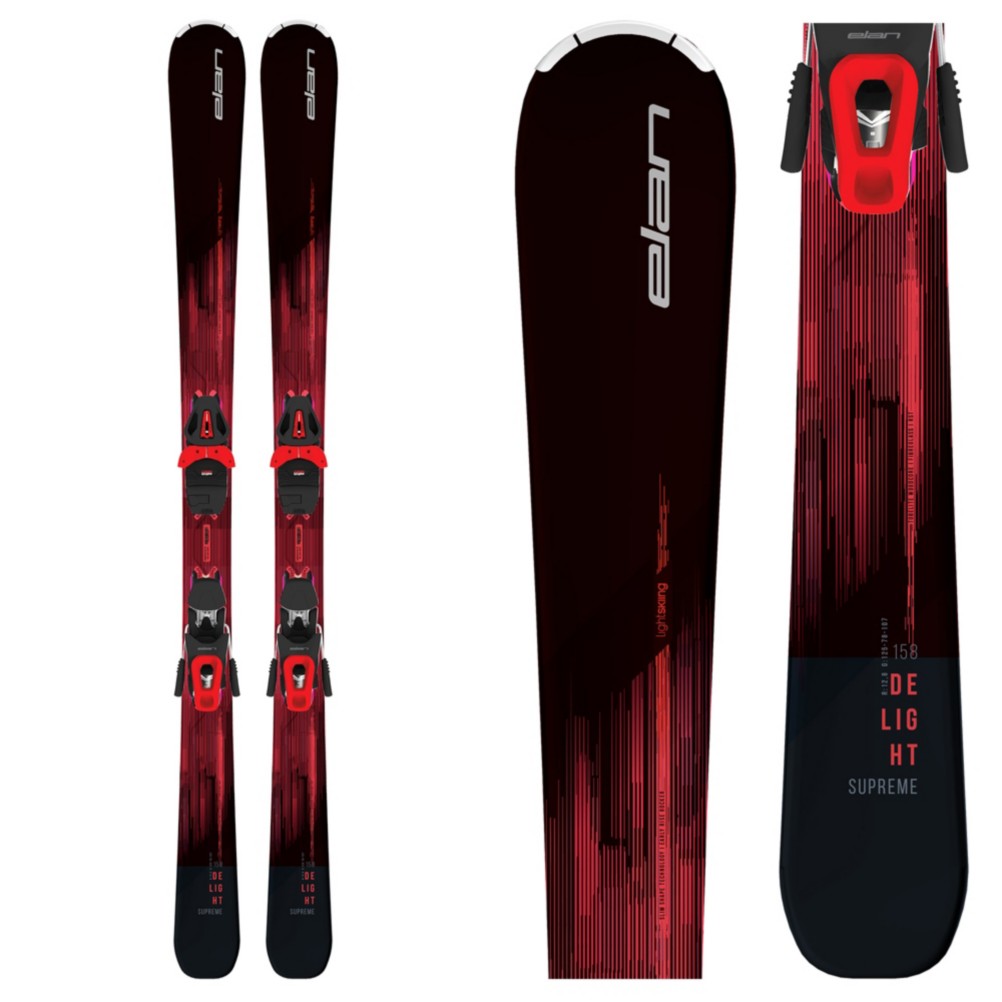 $489.94
(30% off)
Reader Ski Reviews of the Elan Delight QT 2016
Add review of this ski.
Latest User Reviews
I understand the Stockli Axis Pro is not made by Stockli, is this true?
thanks
Dana Simon
Skier Height: 5'9"
Skier Weight:194
Skier Ability:expert
Ski length Tested:174
Ski Review:The Blizzard Quattro 8.4 Ti is a marvelous ski. Smooth, stable, predictable, and very quick edge to edge. I have skied them on ice, granular,...
Skier Height: 5' 11"
Skier Weight: 165
Skier Ability: Expert
Ski length Tested: 179
Ski Review: This is by far the best ski I have ever ridden. lightweight and Incredibly easy to turn, it excels on groomers, steeps, bumps and powder....