Ski Statistics - Length (cm) / Sidecut (mm) / Radius (m)
156 / 118-84-103 / 17/16
163 / 118-84-103 / 18/17
170 / 118-84-103 / 19/18
177 / 118-84-103 / 20/19

Manufacturer's Description
If mountains are your second home and the ascent is equally important as the descent, then the Ibex 84 Carbon is the pefect tool for your mission. The exceptional lightweight can be misleading, as the Ibex 84 carbon handles the most demanding terrain with utter confidence and ease. Designed for the determined touring skier, the combination of Bridge technology with the Tubelite Woodcore results in a strong ski with power, rebound and the best weight/performance ratio in the touring segment. The unique shape of the ski prevents snow from sticking to the top which means no more dragging snow uphill! The mountain rocker gives enough float during ascent in the soft stuff and confidence when charging on the way down, no matter the snow conditions.
Real time prices for the Elan Ibex 84 Carbon 2018, or similar ski products:
Supacaz Fly Cage Carbon
Supacaz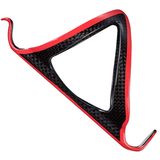 $48.75
(25% off)
Echo Carbon XL Fly Rod 4 Weight 8'4" 4 Piece
Echo

$179.99
Solstice Boat Accessories Carbon Fiber Adjustable Stand-Up Paddle 65-84"
Solstice

$120
Reader Ski Reviews of the Elan Ibex 84 Carbon 2018
Add review of this ski.