Ski Statistics - Length (cm) / Sidecut (mm) / Radius (m)
161 / 82-64-72 / 43

Manufacturer's Description
Try as you might, growing up is teensy bit overrated. And since you're still having a grand old time racing your pals and frenemies to the tops of hills and mountains alike, the folks over at Fischer decided to craft up the Verticalp Ski in order to cater to your ski mountaineering ambitions. This incredibly lightweight ski features a snow-shedding topsheet so you're not bogged down by excessive pounds of slushy wet stuff, while the traditional rocker (specifically the shovel nose and recessed tails) make sailing uphill feel easy as pie. The lightweight paulownia wood core, combined with the Aeroshape construction, delivers lightweight and efficient performance when you're cruising up and over snow-covered mountainsides, yet ensures ample edging when you need it the most. Perhaps most importantly, the Verticalp boasts a unique tuning technology that allows you to maximize your kick turn efficiency and power by simply adjusting your center of gravity, which ultimately allows for a more personalized and controlled experience, so you're the first one to the top and not the caboose.
Real time prices for the Fischer Verticalp 2018, or similar ski products:
Fischer Tour Step-In IFP XC Ski Bindings
Fischer
$54.95
(7% off)
Fischer Tour Step-In Binding - 2022
Fischer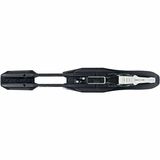 $58.95
Fischer Profoil Transalp 88 Climbing Skins
Fischer
$119.99
(56% off)
Reader Ski Reviews of the Fischer Verticalp 2018
Add review of this ski.