Ski Statistics - Length (cm) / Sidecut (mm) / Radius (m)
178 / 135-115-130 / 20
186 / 135-115-130 / 23

Manufacturer's Description
Top choice for backcountry powder action, these hybrid technology skis are a perfect combination of floating and ease of rocker with a snappy camber suspension and control. Lively in powder and shock-absorbing in rough terrain or chewed-up conditions, Superior is an absolute must-have for backcountry, deep powder or off-piste enthusiasts. Freeride style sidewall design increases the riding properties and makes proper servicing of the skis much easier. Spin off the cliffs and kickers, blast from stash to stash, slash the wave… Want more? Wait, there actually is more! Switching between freeride and backcountry freestyle all the time? No need to change gear anymore because Majesty's Superior skis are so versatile that they have it all covered.
Real time prices for the Majesty Superior 2018, or similar ski products:
Granite Gear Superior One 7400 Portage Pack
Granite Gear

$229.95
Granite Gear Campus Superior Backpack
Granite Gear

$85.95
Majesty Supernova Carbon Ski - 2024
Majesty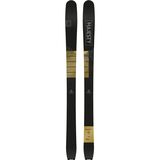 $994.95
Reader Ski Reviews of the Majesty Superior 2018
Add review of this ski.