Ski Statistics - Length (cm) / Sidecut (mm) / Radius (m)
170 / 130-100-118 / 18
177 / 132-100-120 / 19
185 / 132-100-120 / 20

Manufacturer's Description
The Alp Tracks 100 is a men's touring ski from the Movement brand.
The Alp Tracks range is a real triumph. It redefines the concept of touring thanks to the new technology and materials that are used. Partially hand-made, the Alp Tracks skis are real gems… a fusion of what Movement does best, such as an ultralight Karuba core, a fibreglass and rubber insert, titanium reinforcement, 100% carbon laminate, and a high end P-Tex 5000 base. We're not messing around, we're talking the most advanced technology on the market here. The result is a range of skis that are designed for eating up hilly terrain but that keep a super high-performance freeride feel on descents; they float well in powder, they have good grip on hard-packed snow, and remain stable in tricky snow. Basically they'll take on anything.
Alp Tracks 100: As the second widest ski in the range, the Alp Tracks 100 delivers a quite simply breathtaking freeriding performance. With a ridiculously low weight for a ski that's so ""wide"", it's still good for uphills, but it's on descents that it really expresses itself. Its load-bearing capacity and ability to glide come from its huge tip and rocker. The materials used make all the difference to give you superb grip and ability.
Real time prices for the Movement Alp Tracks 100 2018, or similar ski products:
Movement Alp Tracks 100 Ski
Movement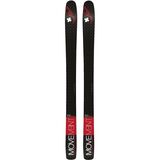 $1174.95
Movement Alp Tracks 106 Ski
Movement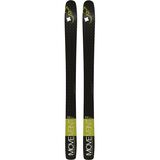 $1174.95
Movement Alp Tracks 106 LTD Skis 2022 - 177
Movement

$1175
Reader Ski Reviews of the Movement Alp Tracks 100 2018
Add review of this ski.