Ski Statistics - Length (cm) / Sidecut (mm) / Radius (m)
169 / 129-94-118 / 18
177 / 130-94-119 / 19
183 / 130-94-119 / 20

Manufacturer's Description
The Alp Tracks 94 is a men's touring ski from the Movement brand.
The Alp Tracks range is a real triumph. It redefines the concept of touring thanks to the new technology and materials that are used. Partially hand-made, the Alp Tracks skis are real gems… a fusion of what Movement does best, such as an ultralight Karuba core, a fibreglass and rubber insert, titanium reinforcement, 100% carbon laminate, and a high end P-Tex 5000 base. We're not messing around, we're talking the most advanced technology on the market here. The result is a range of skis that are designed for eating up hilly terrain but that keep a super high-performance freeride feel on descents; they float well in powder, they have good grip on hard-packed snow, and remain stable in tricky snow. Basically they'll take on anything.
Alp Tracks 94: An intermediate ski from the range in terms of the width of the waist, the Alp Tracks 94 ski is extraordinarily versatile. With a ridiculously low weight for such a ""wide"" ski, it performs well on ascents, but as it also has a waist of 94mm, it won't have any problems floating in powder and will be more than comfortable in hard-packed snow.
Real time prices for the Movement Alp Tracks 94 2018, or similar ski products:
Movement Alp Tracks 100 Ski
Movement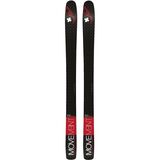 $1174.95
Movement Alp Tracks 106 LTD Skis 2022 - 177
Movement

$1175
Movement Alp Tracks 106 Ski
Movement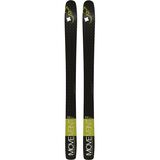 $1174.95
Reader Ski Reviews of the Movement Alp Tracks 94 2018
Add review of this ski.