Ski Statistics - Length (cm) / Sidecut (mm) / Radius (m)
183 / 138-109-120 / 23
189 / 139-109-121 / 24

Manufacturer's Description
The Go 109 from Movement is the ski of choice of Aurelien Ducroz! This is a freeride ski with a full rocker shape making it look like a banana from the side. It is the ideal profile to float on deep stuff. This monster features the VA-Tech to minimise chatter and enhance stability, making the ride more enjoyable on challenging terrains!
If you don't already know Aurelien Ducroz go check him out on Youtube. Freeride world champion, even if you're not going to do the same things as he does on his skis you're still going to perform with the Go 109. The ski floats and slashes powder with a natural ease and rides fast with a secure feel. It feels super manoeuverable and does what you ask when you ask for it. If there's no powder around you can still use the ski but it gets more challenging. Its long 23m turning radius and stiff construction make it demanding yet capable of carving a few turns, if you have the legs for it.
Movement built this ski for expert riders looking for the perfect powder stick to enjoy big freeride sessions! Unlimited performance on powder, the ski can still perform on other terrains but gets a lot more demanding.
Real time prices for the Movement GO 109 2018, or similar ski products:
Movement GO 109 Reverse Ti Ski - 2022
Movement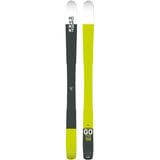 $949.95
Movement GO 115 Reverse Ti Ski - 2022
Movement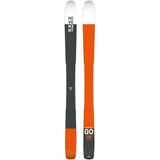 $949.95
Movement GO Ti 98 Skis 2022 - 186 | Plastic
Movement

$895
Reader Ski Reviews of the Movement GO 109 2018
Add review of this ski.