Ski Statistics - Length (cm) / Sidecut (mm) / Radius (m)
178 / 139-117-136.5 / 16
188 / 140.5-118-138 / 17
193 / 141-119-138.5 / 18

Manufacturer's Description
The CBC is Prior's first true backcountry freestyle twin; it can be found bouncing from pillow to pillow in the Whistler Backcountry or navigating through tight inbound trees.
With a waist of 118mm, the CBC provides ample float while staying nimble and playful. Arguably the most versatile powder ski in the line, the CBC features a centered Twin Rocker Profile that tackles variable conditions with ease and maximizes switch ski performance.
From deep, off piste pillows to lift lines, the CBC brings playful inspiration to the backcountry
Real time prices for the Prior CBC 2017, or similar ski products:
SAXX Ultra Boxer Brief + Fly - Men's Alpine Crest- Multi L
SAXX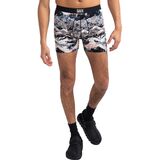 $33.95
Reader Ski Reviews of the Prior CBC 2017
Add review of this ski.