Ski Statistics - Length (cm) / Sidecut (mm) / Radius (m)
180 / 138-108-128 / 17
188 / 138-108-128 / 18.5

Manufacturer's Description
Looking for a floaty backcountry ski? The Chinook 108 will blow your mind. This powerful wind moves through the Canadian Rockies without a problem, eating up the snow along the way. This larger twin-rocker, carbon fibre ski was built to tackle both the East Coast and the Rockies. Go for it: hucking cliffs and straight-lining shoots, those are the adventures that you'll remember.
Real time prices for the Raccoon The Chinook 108 2018, or similar ski products:
NRS Chinook Personal Flotation Device - Men's
NRS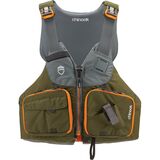 $127.96
(20% off)
Reader Ski Reviews of the Raccoon The Chinook 108 2018
Add review of this ski.